TAMMI THE TICKLE WITCH #4
Released 12/14/09
$14.00Add to Cart
Summer's come and the girls are enjoying a day at the beach. All is going swimmingly... until the ever-mischievous Tammi sets Professor Pringle up for some barefoot, buried in the sand tickle-action. Not long after, the Professor unwittingly releases a ticklish Djinn Princess from a bottle, and the real fun begins. Pringle's first wish is (of course) to be made a great witch, but the only way to do that is for her to switch bodies with Tammi... so guess what happens?
Before you can say Arabian Nights, Rachael and Aunt Iris are being tickle-tortured to within an inch of their lives. Can Tammi - now trapped in Professor Pringle's svelte and equally ticklish body - save the day? Or will Princess Ali get the last laugh?
Item Features
13 Full Color Pages +Cover!
50+ Comic Panels!
6 bonus Sketch Pages!
1 Bonus Holiday Greetings page!
f/f tickling!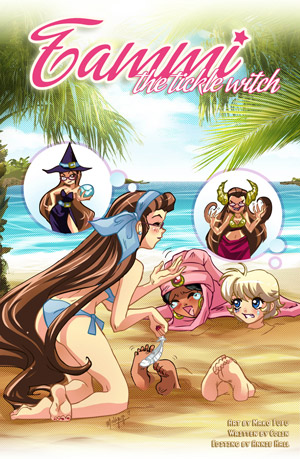 TAMMI THE TICKLE WITCH #4 Cover
$14.00Add to Cart