TRAPPED & TICKLED #2
Released 11/5/09
SALE! $12.00$9.00Add to Cart
Milagros317 returns with this intense and torturous collection of F/M tickling stories!
1. Jennifer's Birthday Present
Joseph agreed to be tied up and tickled for an hour, just one hour, as a birthday present to his girlfriend, Jennifer. When the hour is almost up, she leaves in a hurry in response to an emergency call on her cell phone from her best friend. Her mother, Judy, finds him helpless on the bed, with tickling implements all around him. How much will Judy enjoy this situation? For how long? Will Joseph ever be released by this rich young widow? Will Jennifer set him free from her mother?
2. The Bus Ride
John picks a seat on the bus from New Jersey back home to Manhattan so that he has a great view of the bare soles of the gorgeous Korean woman sitting across the aisle. He doesn't realize that she has noticed his interest. When she uses her cell phone and talks in Korean he has no ideas that she's arranged for her cousins to be at the bus station when they arrive. After the cousins trick him into their van and kidnap him, what fantasies does he confess to her? What vengeance does she have in mind? How long a sentence of punishment does she give him?
3. Empty Nest
William and Katherine Jackson have just dropped their twin daughters off at college and entered the 'empty nest' phase of their lives. William expects to be having more sex now that Katherine can't use the excuse that the children will hear them. But Katherine has remodeled the attic with elaborate plans of her own, she wants revenge for an affair that he had years ago. These plans involve inescapable bondage and extreme tickle torture. Can William ever get free? Or will her plans to have a permanent prisoner in the attic succeed?
4. The Spare Room
Martin, an orphan, is about to enter college after the death of the grandmother who raised him. He is happy to take the offer of renting a spare room in the home of his prospective future landlords while waiting for an opening in one of their apartment buildings near campus. But these three sisters actually intend to imprison him in a secret room, a dungeon designed for long-term tickle torture. Will Martin ever get to attend class? Or will he be a living tickle toy for the sadistic trio?
Item Features
Four tales of tickle torture!
20,000 + Words!
4 story illustrations!
F/M Tickling!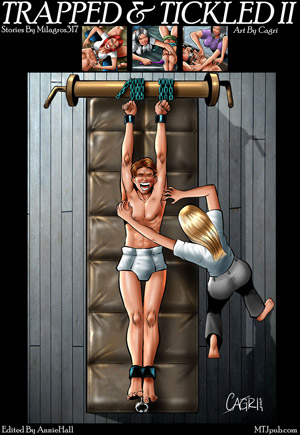 TRAPPED & TICKLED #2 Cover
SALE! $12.00$9.00Add to Cart