THE EDGE #1
Released 8/3/04
$10.00Add to Cart
Tickling and teasing go together like sharp fingernails and tender skin. A merciless tickling can leave a man helplessly aroused - and a man in this condition is even more sensitive, even less self-controlled, and a perfect target for more tickling. The victims in these stories find them-selves trapped in this vicious circle, driven into an erotic frenzy by only the most delicate and playful of touches, and then having their pleas for relief lost in the madness of ticklish laughter.
INCUBUS
The demon Xaphan is used to torturing others, not being tortured himself. But now he's trapped in a mortal body, with all the weaknesses that come with it - and at the mercy of two women who know all too well how to exploit those weaknesses. Before the night is out, Xaphan will have learned all about a form of torment he never imagined.
BLACK LIPSTICK
Harry's got an opportunity most other journalists would give an eye for - a one-on-one interview with the hottest rock goddess of the moment. But Kyra seems less interested in his questions than in himself. Especially just how ticklish he is. Can Harry keep his cool in the face of her teasing and get the interview, or will he just end up as Kyra's latest boytoy?
THE "TEASE" IN "TEAM"
Kurt's in trouble. The college women's gymnastics team he coaches has found out that he's been spying on them, and they're not happy. Even worse for him, they know a secret about him that he thought was long forgotten. Now the team has a workout in mind for their coach, one that will take him to the limits of his endurance, and beyond!
Item Features
3 Stories!
17,000 + words!
F/M Tickling!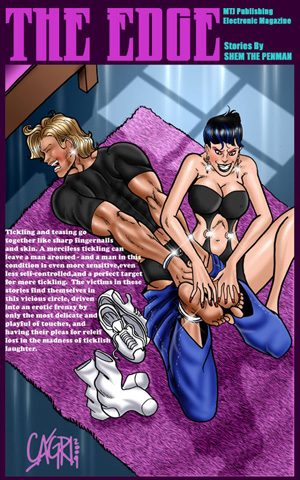 THE EDGE #1 Cover
$10.00Add to Cart