Captured By Amazons!
Released 4/10/06
SALE! $10.00$8.00Add to Cart
Jack and Dave, a pair of American archaeology students, are traveling through the jungles of South America with their friend Mindy, searching for remains of a legendary all-female civilization. Unfortunately for them, the Amazons are not extinct; they are very much alive and take particular delight in ruthless tickle-torture of male travelers! Soon Jack and Dave are laughing hysterically under the fingers, feathers and tongues of these evil warrior-women. Can Mindy save her friends - or will she be too busy laughing herself?
Item Features
F/M Novella
Words 15,000 +
Main focus on F/M with some F/F tickling
Story By Colin
Cover Art By Cagri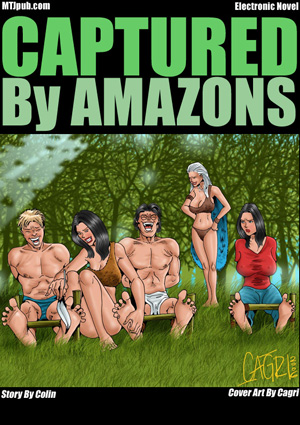 Captured By Amazons! Cover
SALE! $10.00$8.00Add to Cart