Deadlier than The Male #2
Released 12/19/02
$10.00Add to Cart
MS. FIX IT
Lauren loves her boyfriend, Vincent, but wishes he'd treat her better. So when she heard about Androtechnics Inc., specialists in the field of repairing males who aren't working quite right, she gave them a call. Since then, Vincent has been gone for two weeks, enduring extensive retraining at the hands of Androtechnics's female technicians. Now Androtechnics wants Lauren to come in and help them finish the process -- an excruciatingly ticklish procedure, during which Lauren will learn a lot about Vincent, and about herself.
DOUBLE-EDGED SWORD
Al's feeling confident in his new suit of powered armor -- bullets bounce off him, he can push through concrete walls without effort, and he can level anything in sight with a blast of energy. His future in his new career as a superhero is looking bright. Until he runs into his first supervillain, Auria. She's smarter than he is, faster, meaner, and she knows more about his armor than he does. Almost before Al knows what's happening, his mighty armor is broken and he's helpless ... and then Auria really decides to teach him a lesson!
THE DEADLY PLUMES OF MEZTLI
Reprinting another chapter of the adventures of Hope Silver, the greatest tickle-pulp heroine of the 1930s! It's 1932, and Hope and her aides are investigating a mystery in an exotic South American city. Unfortunately, someone doesn't want them there. Two of Hope's companions have already vanished, and the others have barely fought off vicious attacks. A peculiar pair of twin young men may know what's behind the disappearances, but they're too scared of someone -- or something -- to talk. Unless Hope and her remaining aides can convince them otherwise. And unfortunately for the twins, they don't just look alike and sound alike; they're also equally ticklish.
WITHIN EYESHOT
Maybe Jack should have taken Brigitta's claims of Gypsy heritage a little more seriously before he broke up with her. But he didn't, and now there's a curse hovering over him -- every woman he makes eye contact with ends up tickling, torturing, and teasing him until he can't stand a second more. That might not be so bad if Jack lived in the middle of nowhere, but he's in one of the largest cities in the world. There are women everywhere he looks, and every one of them is a potential tickling menace. Friends, coworkers, acquaintances, total strangers, it doesn't matter -- all it takes is one careless glance, and he's at their mercy for as long as they need to tickle him to the brink of madness. Can Jack keep his life together, or will he have to become a monk to save his sanity?
Item Features
Four tales of merciless f/m tickle torture
Over 24,000 words!
Two b&w Illustrations by Tomas
Two color Illustrations by Mau Russo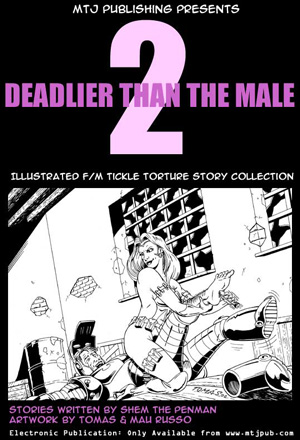 Deadlier than The Male #2 Cover
$10.00Add to Cart