YOLY #3 LAUGH! To Please the Queen!
Released 5/20/11
$16.00Add to Cart
VIEW FORUM FEEDBACK ON THIS PUBLICATION!
Well gosh my golly and call me Miss Molly! Yoly is in some serious trouble now!
Abducted by tickle-crazed aliens from her hilly home high in the Bruno Mountains our lovely country heroine's dreaded secret has been spotted! It don't matter that Yoly's stronger than a hard swig of preacher's moonshine, because this time those stinkin' aliens are gonna lay all her laughing places bare.
Unable to hold back her squealin' response, the tiny teeklish Yoly must face the deadliest challenge of her life... becoming a bikini-wearing TICKLE SLAVE to the dreaded Koo-Chee Queen! It's the kinda stuff the guverment's been covering up since Roswell!
It seems only the sweet guffaws of the tender Yoly can turn this torrid tentacled menace into a full-fledged human being. But you and I both know that being human isn't always something to giggle about on a ship fulla merciless foot-obsessed alien tickle fiends.
Join Yoly for an outer space adventure so damn hot it'll make your fingernails sweat!
-The Bandito
Item Features
19 Full-Color Pages + Cover!
Over 70 Comic Panels!
f/f tickling +Alien Ticklers!
Ridiculously Ticklish Yoly!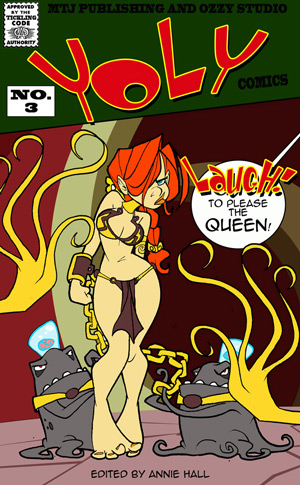 YOLY #3 LAUGH! To Please the Queen! Cover
$16.00Add to Cart