The Further Adventures of Peterton Poe #01
Released 8/3/11
$16.00Add to Cart
Intergalactic hero Peterton Poe is in trouble again folks. Amorous vengeful vixens seem to be waiting for him at every turn. Diabolically sexy female demons lurk in his very shadow. And all of them know his one...desperate...weakness. The poor guy is horribly and unbearably ticklish from head to toe!
Join Poe as he is taken through a series of fiendishly feathery adventures by a barrage of hot evil women bent on driving him out of his mind.
Fight alongside Dragon Slayer Poe as he comes up against an alluring Dragon Mistress that turns out to be more than he can handle.
Sneak behind Ghost Hunter Poe as he searches far and wide for friendly phantoms, and when he finds them - they turn out to be much friendlier than he imagined.
And pray for mercy with Space Cop Poe as he falls into the clutches of a scorned criminal with the ultimate plan for cackling revenge.
Will this be his darkest fantasy come true?
Or his most terrible howling nightmare come to get him?
Find out as these wicked ladies get their feathers on poor Poe.
Either way this is one bedtime story you don't want to miss!
Item Features
14 comic pages + cover!
50+ panels of hot F/M tickling!
Cameos from BITN and TIS!
A very happy ending!
Evil tickle talk!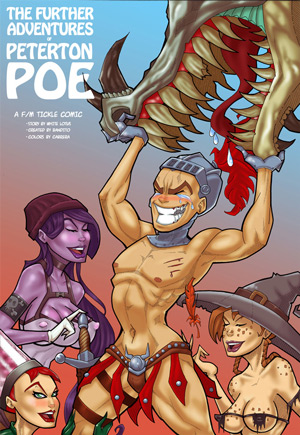 The Further Adventures of Peterton Poe #01 Cover
Visit the creator's site!
$16.00Add to Cart