ABIGAIL ADVENTURES #1
Released 2/14/12
$12.00Add to Cart
The Adventures of Abigail vol.1:
Spinning from the pages of Tales From The Asylum and crafted by the team that brings you Annie The Amateur Pirate comes an original collection of short stories in The Adventures of Abigail! Follow young Abby as she finds herself in a series of increasingly ticklish misadventures, not that she's complaining!
From veteran writer TickleMantis comes a character so sexy and ticklish the mere mention of the T word makes her practically explode! Accompanied by all new original artwork from one of today's top tickle-artists, Darkharp provides a stunning cover and three incredibly erotic pin ups!
Abigail's Diary:
Moving house is never easy but Abby's new roommate could make things a lot more interesting. A handsome older man the sexy young redhead is determined to get screaming under his tickling fingers, but once she does will it prove too much for even her to handle?!
Ha Ha Hazmat:
Barely out of bed Abby finds her entire apartment building is being taken over by men in frightening HAZMAT suits! Every tenant must be thoroughly tested for trace amounts of hazardous material, but it could prove the doctors hands are much more hazardous than the radiation!
Ranger Abby:
Wandering into the forest Abigail is proud to be the newest member of the park ranger team, a team that's keeping secrets from her! The sexy redhead's first day on the job might not quite go as smoothly as she'd hoped as she hikes a little too deep into those hills, and into the path of a lone woodsman whose specialty is more than just hunting and trapping!
Item Features
3 Gripping Tales Written by TickleMantis!
15,000 + Words
3 Story Illustrations + Cover Art by Darkharp!
M/F Tickling!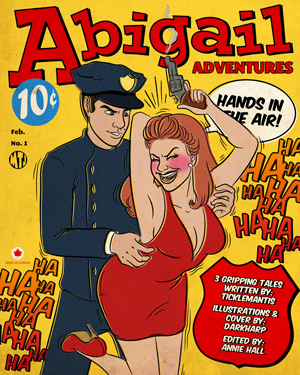 ABIGAIL ADVENTURES #1 Cover
$12.00Add to Cart