TRAPPED & TICKLED #5
Released 9/28/12
$12.00Add to Cart
Milagros317 returns with this intense and torturous collection of F/M tickling stories!
1. The Pink Mummy
Lawrence is boarding at Mrs. Hatch's house near the campus of the college he attends. Her two daughters will help him celebrate Halloween with a costume for him: endless yards of pink veterinary wrap to turn him into a mummy for the holiday. He doesn't understand how he will walk with his legs wrapped together. It soon becomes clear that he will spend the holiday in their mother's house, immobilized and strapped to a dining room table, with his bare feet sticking out of the mummy wrap. The Hatch sisters and their helpers soon drive the extremely ticklish Larry wild as they make his soles as pink as the wrap. The helpers are their sorority sisters and have big plans for Lawrence. How long can his torture go on? Will they ever give up their control of their mother's tenant? What will be his fate?
2. Marriage Counseling
John agrees to go to a marriage counselor with his wife, Susan, as a last means of saving their marriage. But this beautiful woman psychologist, Dr. Jenkins, uses unusual methods, insisting that John be securely bound and tickled to understand how Susan feels when he annoys her with tickling. John suspects that Dr. Jenkins is not unbiased in her treatment and may not be what she seems to be. Who is she really? What long term plans do she and Susan have for John?
3. Lump Sum
Life is good for Joseph March, owner of March Sportswear. He takes a personal interest in all of the photo shoots for his company, at least for all the women's sportswear. He is constantly tickling the model's ribs and armpits, and swimwear photo shoots are his favorite, giving him a chance to get at their bare feet. If only he ran the company better and didn't owe so much to the bank, the bank which is threatening to take the company away from him and give it to whoever will pay off the loans. One of the models, Karen, will soon have the chance for revenge on him, not only for herself but for all of them. What will become of Joseph? How long will their revenge last? Will his punishment fit his offenses?
4. Coach
James Layne is the coach of the Biloxi Belles, in the Women's Professional Soccer League. He is always annoying the players on the team by tickling their ribs during practices. He has instituted foot inspections, allegedly to make sure the players are taking good care of their feet, but uses them to stroke and tickle the players' soles. How will the players teach him a lesson? How will they capture their coach and show him what tickle torture is really like? How will they make sure he permanently changes his ways?
Item Features
Four tales of tickle torture!
20,000+ Words!
4 story illustrations + Cover!
Stories by Milagros317
Art by Nessonite
Editing by AnnieHall
F/M Tickling!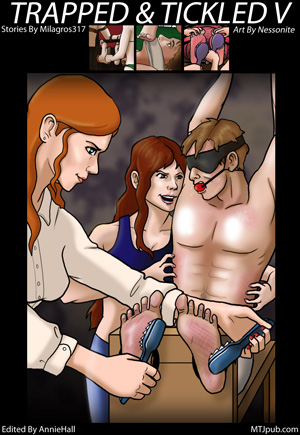 TRAPPED & TICKLED #5 Cover
$12.00Add to Cart