MERCILESS VIXENS #5
Released 9/19/05
$10.00Add to Cart
AUDIENCE PARTICIPATION Story by Kelli Withani, Artwork by Cagri
Rod Long, host of Hot Radio 910's, Scoring Chicks, is a big hit among his mostly male audience, but what happens when three hot, twenty-something babes tune in one afternoon and get an earful? CIA they aren't, but when Lisa, Jessica and Michelle put together a spur of the moment covert tickling operation with Rod as their target, he discovers what no ratings book will ever tell him about his show. We're talking audience participation in a way this radio host never expected in his wildest dreams.
THE QUEEN'S TICKLE SLAVE Part 2 Story by Eternal Victim, Artwork by Cagri
A continuation that takes place the morning after the previous story. The slave is led to the queen's washroom where he is bound inside a giant tub to be tickled by the queen while she bathes herself.
OUTWIT, OUTPLAY, OUTLAUGH Story by XODLIRV, Artwork by Nessonite
Andy is a contestant on a reality show where the players must outdo each other to be the final contestant left. It's down to him and three lovely ladies; and they find a unique way to sway him to their side!
A REPORTER'S DILEMMA Story by TimyTickle, Artwork by Rick Wolf
A Reporter with prosecutable information about illegal activities is approached by a lawyer and an officer of the law about divulging that information to the DA's office. Will he be able to maintain his 1st Amendment rights, or will he succumb to the beautiful lawyer and her sexy accomplice.
THE NIGHT-SHIFT Story by J. R., Artwork by Cagri
Charlene doesn't mind working nights. Her job with Mrs. Liu offers plenty of fringe benefits, most of which involve boys in need of disciplinary tickle-torture!
THE BETTER HALF... Story by Invisible Ink, Artwork by Cagri
The sexy wife of a famous bondage/tickling video director decides its time for her get involved in the video business. Step one is tricking some poor fool into actually thinking that doing a tickling video would be easy. What's the big deal? Just a little tickling right? I mean, how bad could she really be? Our main man finds out that not only can she be bad; she also redefines the art of tickling the male organ and exactly how to send its owner a new realm of tickling hell.
THE VENGEFUL FEATHERS OF LAMBDA DELTA LAMBDA Story by Kelli Withani, Artwork by Tomas
Sneaking into a sorority house to hide tiny wireless cameras could be called a simple fraternity prank or breaking and entering and invasion of privacy. In either case there are consequences for such things, especially when the girls of the sorority have a passion for feathers and the things that can be done with them. See what happens when you mix four horny guys, far too much beer, a house full of scrumptious college coeds, and a plethora of feathers.
Item Features
7 Ticklish tales!
30,000 + words!
7 Story Illustrations!
f/m tickling!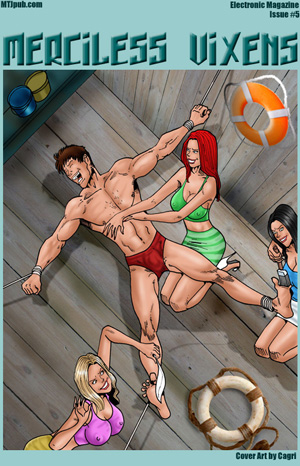 MERCILESS VIXENS #5 Cover
$10.00Add to Cart