TICKLISH SITUATIONS #01
Released 3/7/05
$8.00Add to Cart
DO WHAT YOU WANT TO THE GIRL, BUT LEAVE ME ALONE! Story by Dave2112
What does a man do when the love of his life is used as a pawn against him? He sucks it up and takes the punishment, right? Well, maybe not. See what happens when a girl is tortured in front of the man who loves her. The torment of another has been used for centuries to loosen the tongues of suspected spies. Usually it works, but sometimes valor isn't all it's cracked up to be...
A CLOSE ENCOUNTER OF THE TICKLING KIND Story by Kelli Withani
Aliens and an extraterrestrial space ship can be scary to a beautiful, young college coed alone on a desert camp out, especially when there is a close encounter mixed up in the equation. Trained as a skeptic and being a true non believer she quickly learns that there are indeed UFO's and more importantly why the alien grays who pilot them spend so much time buzzing around earth.
GONE "SALEING" Story by Kelli Withani
Angie, a Minnesota transplant, new to Southern California's kinky ways and a "tickle virgin" to boot loves garage "saleing" and the thrill of the hunt. Early one spring morning she sets out in search of the ultimate bargain only learn more about herself and her kinky roommate than she ever imagined when she accidentally buys a tickle stocks from a pile of what she affectionately calls "man junk."
GUEST RELATIONS Story by Xodlirv
An important guest at a high-price hotel is willing to pay handsomely for a very special service. A young woman on the staff really needs the money, but finds earning it to be a ticklish situation!
WANTING IT ALL Story by Sonrie
Carmen, a highly trained and professional female bodyguard fines her normal workout routine interrupted by an unusual offer from her employer to use his state of the art workout equipment. What follows is a highly erotic and ticklish situation that will change both of their lives forever.
THE CLUB Story by Tklover66
Imagine a club that provided you privacy, anonymity, security and best of all excruciatingly ticklish women that were yours for the tickling and that they were completely helpless to do anything about it. If this sounds titillating in the least. Perhaps you need to visit "The Club."
THE POWER OF NOBILITY Story by Tklover66
Lady Gabrielle was a gorgeous, single, twenty-six year old member of the nobility. She had inherited her title from her deceased father. Unfortunately for Lady Gabrielle, her father had left her no other possessions but her land titles, making her land-rich, but cash-poor. Abducted and imprisoned it seems that there were those who coveted her land and were determined to see that she signed her land over to them.
THE NYLON DUNGEON: INSPECTION TIME Story by Daumantas
Series creator Daumantas returns with a particularly fiendish new tale set in his ever popular setting The Nylon Dungeon. Find out what goes on during a typical prisoner inspection.
Item Features
8 Ticklish Tales!
29,000 + words!
Cover Art by Shock!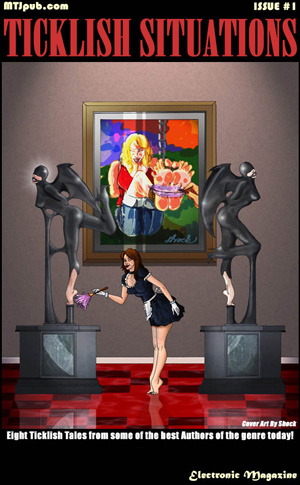 TICKLISH SITUATIONS #01 Cover
$8.00Add to Cart