The Nail Biter Part 2 of 3: Revelations
Released 7/31/12
$12.00Add to Cart
You thought the worst was behind you. You thought the horror was over.
You were wrong.
Andi and Mylie may have escaped the evil that hides within Haven College with their lives. But there are more good girls that need to get their rewards. More bad girls that need to receive their punishment. And in the end, everyone will get what they deserve.
Madness descends on the campus. Nightmares take shape in screaming laughter, grease covered bodies, and horrifying machines of torment. Everyone becomes an enemy as the shadows of Haven claw their way into the minds of the innocent. And the Bounce Chix have to find a way to save a friend, and stop a war from happening that will burn this twisted University to ashes.
Will Jane break at the loving fingers of the Haven Raven Cheer Squad, as their black eyes reveal their true purpose?
Will Sierra survive her punishment at the metallic claws of the Nail Biter and her ravenous hunger for torture?
WIll Meena be taken by another evil altogether? One that would use her body as bait, and her own mind as the ultimate prison?
The enemies will be revealed. The past will be dragged into the present. And the greatest evil the Chix have ever faced will be brought to life.
Hold on for the darkest chapter in Bounce Chix history. The Biter is back.
PUBLISHERS NOTE: This is my favorite Bandito novel to date. Dark, brutal, and uncompromising. Bandito does not pull any punches in this tale of intense erotic horror.
- Jim MTJpub.com
Item Features
32,000+ word Erotic Horror Enovel!
Part 2 of a 3 Part Series!
db_NB02_tiny.jpg
Cheerleader Hazing and Tickle Torture!
Brutal Foot and Upper Body Tickling!
A Bounce Chix Novel!
Written by Bandito!
F/F Tickling!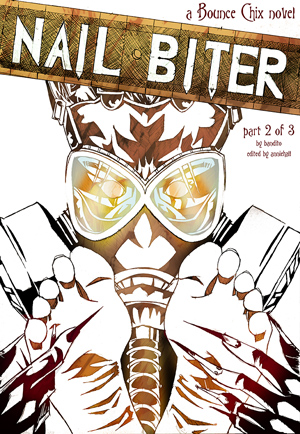 The Nail Biter Part 2 of 3: Revelations Cover
$12.00Add to Cart