Barefoot Heights
Released 7/14/07
SALE! $14.00$9.00Add to Cart
Welcome to Barefoot Heights, an exclusive beachfront apartment community for up & coming professionals. Every night the halls ring with music, laughter, partying, shrieks of laughter, agonized howls of gasping laughter, laughing pleas for mercy, more laughter... well, you get the idea.
The strange truth is, just as some apartment buildings have a history of violence or political intrigue, the atmosphere of Barefoot Heights seems to have an odd affinity for, of all things, tickling.And several of our most attractive young residents are slowly falling under its spell.
Matthew, the Heights most eligible bachelor, has a particular problem resisting the allure of a ticklish pair of female feet. Is he romantically tied to lovely Professor Sylvia Magdalene? Or is it just that her mysterious medical condition her legs and feet are paralyzed, but still highly sensitiveseems made for the attentions of a sadistic tickler? Is that what's driving Matthew to abduct his attractive neighbors for vicious tickle-sessions in his private torture chamber?
Scheming redhead Pixie Dixon is determined to win Matthew's heart, as well as rise in the ranks of tony Haute Magazine. Pixie's perfectly willing to screw over her neighbors and co-workers in the process, including all-Asian-American nice girl Jennifer Chen.Jen is pretty ticklish herself, and Pixie's not one to pass up a rival's weakness.But pretty much everyone at the Heights is ticklish...things could get very interesting before this story is over...
So welcome to the Heights kick off your shoes and laugh for a while.
Item Features
13 Full Color Pages
40+ Comic Panels
Story By J.R.
Art by Dr. Dave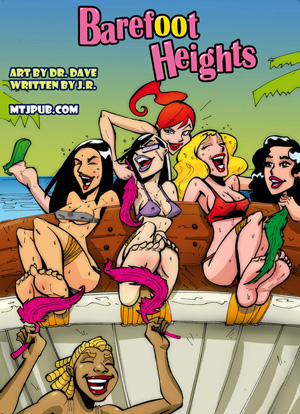 Barefoot Heights Cover
SALE! $14.00$9.00Add to Cart