SPACE TICKLERS (New Edition)
Released 8/7/13
$10.00Add to Cart
New Edition featuring new cover art by AnnoXanti and editing by AnnieHall! (Original Publishing Date 11/18/01)
When her attempt to return to Earth misfires, scientist Sheila Baxter finds herself stranded on a remote corner of the colony planet Atlantis. She is promptly captured by a tribe of lovely amazons and put through a very interesting interrogation...one involving prolonged and merciless tickling! Happily for the very ticklish Sheila, her captors soon become her friends...and then quite a bit more! It seems these ladies are part of an Earth-born religious sect devoted to the ancient goddess Ishala, who demands woman-on-woman sex and sensual stimulation as part of her worship...and what better way to stimulate a young amazon than a good, thorough tickling? Especially when she's tied down in a creative manner that puts her tender toes, soles, breasts and sex on display for all comers to play with and enjoy?
Soon Sheila is thriving in her new environment, and taking a steadily-growing stream of lovers. She learns about the proper techniques of feather-stimulation in a special tickling school...then becomes a mistress herself! She makes the acquaintance of the ant-rabbits, native animals with tickling tongues and a taste for toes. She witnesses the tickling punishment meted out to several hot young voyeurs, and welcomes a trio of ticklish newcomers to the settlement. But soon the young scientist finds herself homesick...will she leave her new friends...or be tickled to stay?
One of MTJ's very first fiction publications, Space Ticklers still delights with its sensuality and charm. A must for all fans of erotic tickling and SF fetish-fantasy!
-Colin
Item Features
An Erotic Tickling Tale By Hal Young
45,000 + words!
Cover Art by AnnoXanti
Includes nude version of cover art!
Includes original cover art by Zuni!
f/f tickling!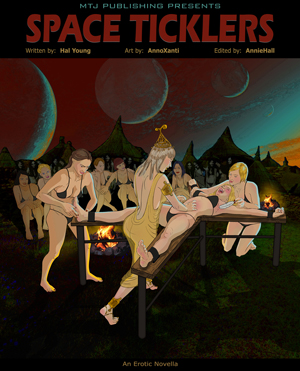 SPACE TICKLERS (New Edition) Cover
$10.00Add to Cart