TAMMI THE TICKLE WITCH #2
Released 3/5/09
$14.00Add to Cart
Girls just want to have fun - and our favorite tickle-witch is no exception! So when ultra-strict Professor Valmont demands that she and Rachael sacrifice their weekend to homework, Tammi decides to remind her what it was like to be young. Using a new spell, Tammi literally tickles the uptight Prof back to girlhood.
Unfortunately, the eighteen-year-old version of Professor Valmont is a real brat - and the spell had an unforeseen side-effect: whoever SHE tickles is also rejuvenated. Before long, ditzy Professor Pringle and Dean Liu have joined Valmont's tickle-happy posse - and Tammi and Rachael are their next victims!
Can Aunt Iris save the day? Or is Iris herself doomed to revisit her teen years - laughing all the way!
Item Features
13 Full Color Pages +Cover!
60+ Comic Panels!
2 Character Sketch Previews!
f/f tickling!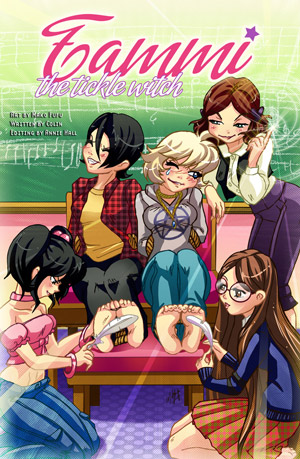 TAMMI THE TICKLE WITCH #2 Cover
$14.00Add to Cart