Bounce Chix Origins II
Released 9/17/09
$15.00Add to Cart
VIEW FORUM FEEDBACK ON THIS PUBLICATION!
Trapped onboard an out of control UFO on a collision course with certain doom!
Being hunted mercilessly by an evil alien menace who wants to tie them up and tickle them until they explode!
Psychotic robotic fiends behind every twist...crazed Space Pirates endangering their very lives!
And you thought this was gonna be just another silly tickle story, didn't ya?
Join the gorgeous Bounce Chix for the second half of their amazing epic journey toward unparalleled heroism, universal salvation, and the revelation that will shake the very foundations of the galaxy! There's no turning back now. These three hot little heroes must face throngs of fiendish challenges and feathery foes that want nothing more than to ruthlessly tickle them out of their minds.
Will Dale be able to hide from the wicked tickle monster, or will she fall helplessly under those friendly fingers?
Will the nefarious Captain Blake continue her spree of villainy, or will the torturer get a taste of her own bitter medicine?
Will Andi be able to resist the unbearable sensations that befall her, and finally come face to face with her wild side?
Will Sergeant Dusty be rescued before she succumbs to the relentless tickle torture, and will she have her sweet revenge?
And will the universe return to balance...before the final shadow obliterates us all?
Go back to the beginning, embrace the truth, and help Hailey, Jane, and Andi fight the greatest battle in the history of the universe. The stage is set for the ultimate show down between good and evil. And only you can stand beside these sexy space soldiers as they defend our very survival.
Everything will be revealed, nothing will be held back, and the cosmos will never be the same.
From smoldering eroticism to stunning danger. From brutal tickle torture to passionate surrender. From death-defying heroism to absolute evil...the origin of the Bounce Chix is more than just a story to be told. It is a legacy.
Item Features
9 sexy tickle pin-up illustrations (including cover)
4 additional tickling bonus sketches
A 52,000+ word epic sci-fi tickle sequel
Written, drawn and inked by Bandito
Stupendous colors by White Lotus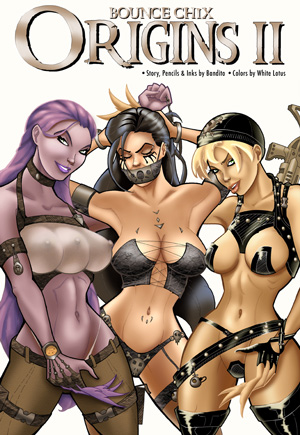 Bounce Chix Origins II Cover
Visit the creator's site!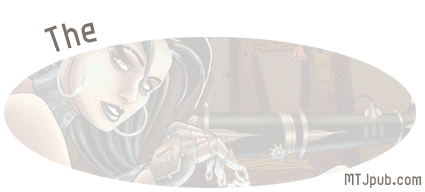 $15.00Add to Cart