The Artist's Portfolio #3: The Art of Kalamos
Released 1/16/07
SALE! $12.00$9.00Add to Cart
The Artist's Portfolio #3:The Art of Kalamos
The Artist's Portfolio is devoted to bringing you the very best of tickling art from some of the top talent in the genre. Each issue will put the spotlight on one of the genre's favorite artists.
Item Features
14 New Illustrations + Cover!
5 Bonus Illustrations!
*/F, F/F, M/F Tickling!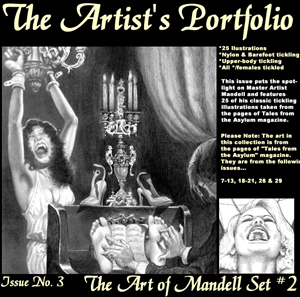 The Artist's Portfolio #3: The Art of Kalamos Cover
Visit the creator's site!
SALE! $12.00$9.00Add to Cart