THE PLEASURE PARADISE CLUB (New Edition)
Released 8/7/13
$10.00Add to Cart
New Edition featuring new cover art by AnnoXanti and editing by AnnieHall! (Original Publishing Date 11/18/01)
Plagued with insomnia, our narrator consults a psychiatrist, who diagnoses a latent tickling fetish...and prescribes full-on indulgence! Eager to try out his doc's advice, our hero heads for Sin City, where he discovers a very special club, where any pleasure is available for a price. Soon he's enjoying the ticklish favors of a couple of hot young ladies...both as an ultra-sadistic tickler and helplessly laughing 'lee! Things take an even more interesting turn when he buys the club...soon he's living out his wildest tickling fantasies, tortured and pleasured by naughty nurses and wild amazons. But his adventures are far from over.
Just as his new business venture is heating up, our hero learns of a rival club in Reno that actually specializes in tickling. Indulging in a bit of industrial espionage, he's soon enjoying an entire wall of stocked and helpless female feet. His course is now clear: he will make tickling the focus of his own club. But his dreams take a quantum leap forward when he ends up owning both establishments!
Truly a feast for the fetish connoisseur, The Pleasure Paradise Club features both inventive takes on classic tickling fantasies and brand new fuel for your erotic dreams. Each chapter is crammed with deliciously explicit sexual episodes and a plethora of the most ticklish beauties ever imagined. Don't miss it!
-Colin
Item Features
Erotic Tickling Novel!
83,000 + Words!
Cover Art by AnnoXanti
Includes nude version of cover art!
Includes original cover art by Zuni!
M/F, F/F, F/M Tickling!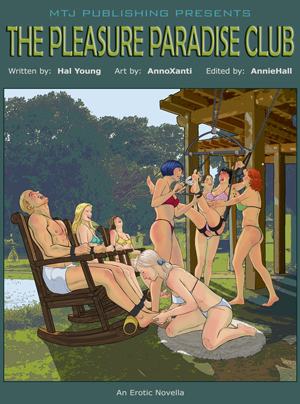 THE PLEASURE PARADISE CLUB (New Edition) Cover
$10.00Add to Cart