TICKLING FICTION ILLUSTRATED #03
Released 11/13/03
$10.00Add to Cart
TICKLING FICTION ILLUSTRATED is designed with the connoisseur of tickle torture fiction & art in mind. Each issue is bursting at the seams with top notch tickle torture fantasies from some of the greatest talent in the genre.
LICENSE TO TICKLE Story by Warrior428 Artwork by Mau Russo
Man it can be rough getting things done at the local DMV sometimes. Not just the long lines, long waiting and that dreaded red tape. The employees there can be real obnoxious. Take Bonita White for example. Her bad attitude landed her in a helpless position in her own backyard under the mercies of three licensed drivers who also happen to have state certified tickling licenses.
THE TRUTH ABOUT VAMPIRES Story by tklover66 Artwork by Cagri
Ashley never believed that there was such a creature as a vampire. She had always believed that they were merely the figment of a horror writer, trying to make readers feel scared...until she became the captive of a family of vampires. Join her in her fiendish torments, as she learns first hand the truth about vampires- their existence, their need for human blood from their captives, and the special method with which they ensure the human blood they consume is of the highest quality...
BAMBOO BOB Story by Kelli Withani Artwork by Tomas
One could say that Jenni had a Bamboo fetish. She spent a great deal of time and money decorating her place in 1960's style bamboo furniture complete with coconut art, woven palm fiber mats, and abalone shell ashtrays. However when she stumbled upon Bob's small bamboo shop she finds a huge, custom built bamboo bed that she must have. Unfortunately she can't afford it but Bob makes her a ticklish proposal she just can't refuse.
ENTITLEMENT Story by Peege Segal Artwork by Sl44n3sh
Suzy and Evelyn had been sent to Veranoso Island by Biamono Corporation to audit accounts. They'd been led to believe that working on the island would be like living in a tropical paradise. However, nothing could have been further from the truth. To get back at the company, the two girls decide to embezzle money. Certain that they won't get caught, they decide to take the money on their first vacation. However, their supervisor, Ms. Hypes, discovers their plot before they're able to leave. Ms. Hypes offers them a deal: The girls may leave the island, and escape criminal prosecution, but in exchange, they must consent to making a tickle torture video for Ms. Hypes.
TRICK OR FEET Story by Xodlirv Artwork by Mau Russo
A special Halloween tale of the Circle! A member of the Circle plans the abduction of her business rival, and a Halloween costume party provides the setting for the snatch! A tale of fiendish tickle torture!
RESCUE 911 Story by Warrior428 Artwork by Mau Russo
Sam is a confident and competent firefighter. Sam also likes to boast about Sam's tickling skills. Sam was able to prove to the roommate how nourishing tickling can be. Sam also proved...tickling saves lives.
Item Features
6 Tales of Tickle Torture!
6 Story illustrations!
26,500 + Words!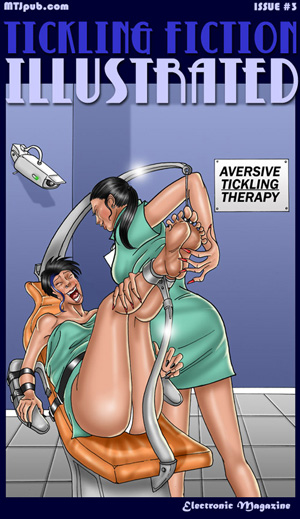 TICKLING FICTION ILLUSTRATED #03 Cover
$10.00Add to Cart