TICKLISH SITUATIONS #03
Released 3/6/06
$10.00Add to Cart
HI-TECH-HEELS Episode 1: Code Runners Story by Invisible Ink
Britney and Lillith are secret agents with a very important job. Their job is to run vital codes from point A to point B in order to save the day. Powered by High Heels that give them incredible powers beyond the boundaries of the human body. Why on earth would such an important job rest in the hands of spies are cute, naive, highly ticklish, and easily captured??? Well, why not?
THE CARVER'S HOUSE Story by The Hawk
Ashleigh Morgan's night had not gone well. Stranded and lone in a thunderstorm by her 'date,' she needed to find shelter quickly on this chilly October night. She sees the home of an old friend and teacher in the distance. Little does she know that a simple request for shelter will lead to a night she'd never planned on, nor would ever forget...
A JOB IS A JOB Story by Xodlirv
Heather is an aspiring actress, unsuccessful and broke. When she answers a classified ad searching for foot models, she finds the job is no laughing matter!
WIFEY Story by Amnesiac
Daniel Gerhardt knew how to handle his naughty wife. A day hardly went by that he did not have to teach her a ticklish lesson. This day and in fact this week would prove not be an exception.
THE NYLON DUNGEON: RX 20 Story by Daumantas
Series creator Daumantas returns yet again with another new tale set in his ever popular setting The Nylon Dungeon.
INVISIBLE INK'S FICTION SNATCHERS!
Introduction by Invisible Ink
What happens when two talented authors go head to head against each other in a battle of words? Fiction Snatchers is what happens! Unique characters from each of the author's own amazing libraries are put through some of the worst tickling scenarios these talented writers can dream up! See which author's characters get tickled beyond their wildest dreams and beg to go back home! Get in, hold on, and strap your slave down for the ride because when creative minds go head to head, they're taking no prisoners!
FICTION SNATCHERS: TICKLISH PROPOSITIONS Story by The Factor
Dr. Tickell appears courtesy of The Factor's Happy Center Jasmine appears courtesy of Invisible In's As Seen on TV.
FICTION SNATCHERS: HAPPY PILLS Story by Invisible Ink
Tiffany appears courtesy of The Factor's Happy Center
Mistress Fortune, The Director, and Jack D. Price appear courtesy of Invisible Ink's As Seen on TV
Item Features
7 Ticklish Tales!
46,500 + words!
Cover Art by Scavenger!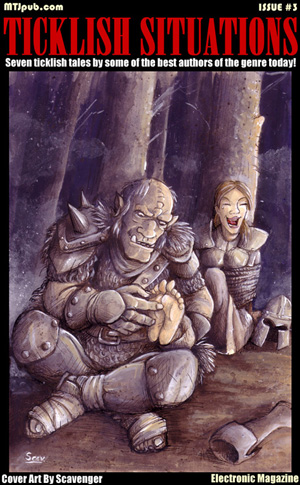 TICKLISH SITUATIONS #03 Cover
$10.00Add to Cart