TICKLISH TURNABOUT #01
Released 10/18/08
$10.00Add to Cart
Freckles' Revenge: A Tale of Truly Alternative Medicine: Dr. Blake Cartier, through years of study, a change of name, and a complete overhaul of his image, has transformed himself completely from high school and college geek into a handsome, wealthy, and famous physician. He is still haunted, though, by memories of his ultimate humiliation at the cruel hands of the beautiful, popular, and utterly unattainable Sydney Ward. When luck - or fate - delivers Sydney into his incredibly skilled hands, he finds his dreams of vengeance may well be fulfilled...
The Mo Show: In a classic case of wrong place, wrong time, Mo is caught by two beautiful but merciless sorority girls as he works on the wiring in their house over summer vacation. Believing him to be a fraternity spy, they subject him to excruciating torture, and post clips of it on the web as a message to others.
But Mo is a clever guy, and he has a plan to see that poetic justice is satisfyingly served...
Item Features
Two tales of tickle torture!
Over 18,000 + words!
Cover art + 4 story illustrations!
F/M & M/F Tickling!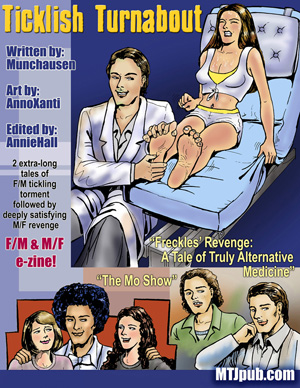 TICKLISH TURNABOUT #01 Cover
$10.00Add to Cart