TICKLISH TURNABOUT #02
Released 2/11/09
$10.00Add to Cart
Munchausen returns with two new epic-length tales of F/M tickle torture followed by deeply satisfying M/F revenge! Haughty hotties tickle, tease, and torment hapless male victims, then discover that tickling can often be a two-way street!
Three on a Car: Scott needs a car, and, given his lack of responsibilities or places to be, figures a local radio contest that awards a car to the last person able to maintain continuous contact with it is as good a way as any to get it. When a breathtaking, beach-bronzed blonde sits down next to him and props her bare feet on the hood of the car, Scott thinks she's a dream come true - until she reveals her particular strategy for making him let go! However, even in defeat, Scott has a trick or two up his sleeve...
What Happens in Vegas: Mike can't believe his good fortune - he's staying for free in the opulent Vegas penthouse his ridiculously rich, flighty friend Thaddeus booked, then realized he couldn't use. Unfortunately, Thaddeus has booked other entertainment for the night, in the form of two costumed, stunning dominatrixes who are paid not to take "No" for an answer. So begins a comedy of errors and chain of events that lead the three into an erotic tickle-marathon none of them could have expected!
Item Features
Two tales of tickle torture!
Over 18,000 + words!
Cover art + 4 story illustrations!
F/M & M/F Tickling!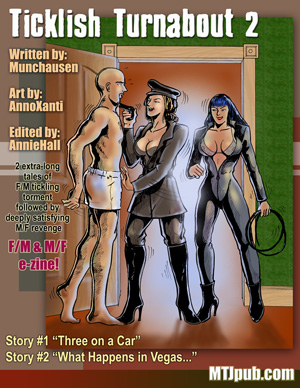 TICKLISH TURNABOUT #02 Cover
$10.00Add to Cart