Xodlirv's MERCILESS TALES #02
Released 2/16/10
$12.00Add to Cart
1 COMIC 2 TALES
THE TICKLE-IT LIST
A young man is told that his time on Earth is drawing to a close. He sets out to do those things he's always wanted to do, but never dared to before. Unfortunately for three lovely ladies, his list includes tickling them to tears!
THE FRENCH TICKLEE
A beautiful French peasant girl, suspected of belonging to the Underground in Occupied France! A ruthless interrogator whose weapon of choice is the feather! We've all seen this scenario before--or have we?
With artwork by Rick Wolf (CASE OF THE TICKLISH SPY, MAKE LAUGHTER, NOT WAR) and veteran MTJ Publishing author Xodlirv ( THE FEET STAY IN THE PICTURE, THE ADVENTURES OF STARGIRL SILVER)
Item Features
11 Comic pages +Covers!
Over 65 comic panels!
Barefoot tickling!
M/F Tickling!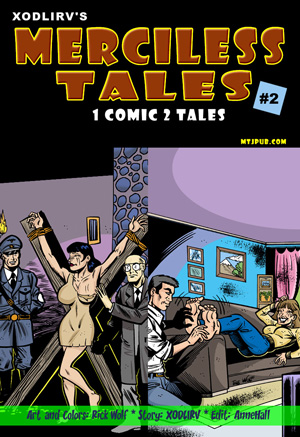 Xodlirv's MERCILESS TALES #02 Cover
$12.00Add to Cart