Lexi # 06 CINEMA-TICKLE MADNESS!
Released 12/15/10
SALE! $15.00$9.00Add to Cart
Michelle Yeow, the famous Hong Kong movie star and diva extraordinaire, is in town to make a new movie. Of course, Lexi has a new invention for the occasion, a virtual reality generator that can conjure up any special effect imaginable. But when the temperamental Ms. Yeow is subjected to a highly nonconsensual tickle-torture session by a mysterious ninja, the blame falls on Lexi, and it's up to Lydia (as usual) to save the day!
This issue marks the return of Michelle Yeow, first seen in Lexi 1: Goddess of Laughter
Item Features
13 Full Color Pages + Cover!
50+ Comic Panels!
F/F Tickling!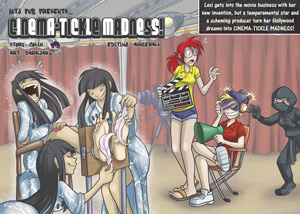 Lexi # 06 CINEMA-TICKLE MADNESS! Cover
SALE! $15.00$9.00Add to Cart