Yenny's Ticklsh Adventures 06
Released 3/1/02
$10.00Add to Cart
That's right tickle fans, Yenny is BACK in all of her sexy wiggling glory.
From the tips of her terribly tender toes, to the curves of her captivating tan skin, to her most sensitive hidden tickle spot...the legendary Yenny returns in 6 sensational comic collections to drive you wild and make you beg for more!
Come check out the series that literally redefined the tickle comic genre and created an international sensation in the adorable, wonderfully ticklish, and unbeatable Yenny!
Boo YEAH!
-The Bandito
Item Features
40+ Comic Panels!
10 pages in all +Cover!
/f Tickling!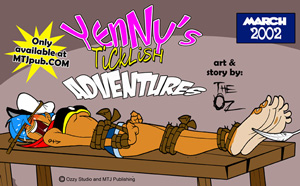 Yenny's Ticklsh Adventures 06 Cover
$10.00Add to Cart