Johnny No Pants #2
Released 11/9/11
$9.00Add to Cart
VIEW FORUM FEEDBACK ON THIS PUBLICATION!
Johnny No Pants finds himself again at the mercy of the Miss Peggy and as we learned in the previous episode... Mercy is the last thing on Miss Peggy's mind when it comes to ticklin the object of her affection to the point of a nuclear meltdown.
This issue promises to be the most EXPLOSIVE issue yet!
Johnny No Pants is set in the very same Bruno Mountains made famous in the Yoly series. Fans of F/M tickling will not want to miss Johnny No Pants!
Item Features
9 Full-Color Pages + Cover!
20+ Comic Panels!
100% More Naughty Bits!
F/M Tickling!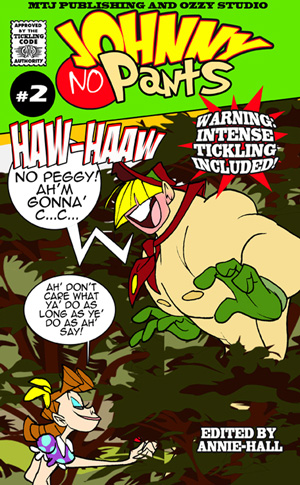 Johnny No Pants #2 Cover
$9.00Add to Cart