The Nail Biter Part 1 of 3: Orientation
Released 3/20/12
$12.00Add to Cart
Play time is over.
The Bounce Chix find themselves on the frozen cobblestones of Haven University amidst two hundred years of dark history and horror. Something has drawn them here. Something that steals the very heat from your bones, claws its way inside of you, and takes you. Forever.
What started out as college rivalry becomes a ticklish hazing that goes too far, and uncovers a secret that should have stayed buried. The campus will fill with screams and nightmare. The halls will echo with frenzied laughter and bent metal. And somewhere in the darkness she will hear you. She will find you. And she will get you.
Follow the Bounce Chix as they enter a world unlike they have ever seen. A world where your own howling laughter might be the last sound you hear. A world of merciless monsters, terrifying mysteries, and sadistic rules. A world where your mind no longer belongs to you, and your body is theirs to play with.
Don't say her name. Don't close your eyes. Don't go into the dark.
And pray for your life. Because she... Will. Get. You.
Horror has a name. Torture has a face.
The Nail Biter.
PUBLISHERS NOTE: This is my favorite Bandito novel to date. Dark, brutal, and uncompromising. Bandito does not pull any punches in this tale of intense erotic horror.
- Jim MTJpub.com
Item Features
31,000+ word Erotic Horror Enovel!
Part 1 of a 3 Part Series.!
College Rivalry and Revenge!
Sadistic Foot and Upper Body Tickling!
A Bounce Chix Novel!
Written by Bandito!
F/F Tickling!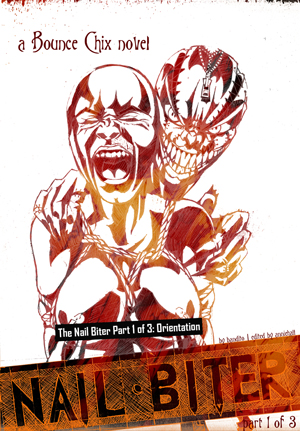 The Nail Biter Part 1 of 3: Orientation Cover
$12.00Add to Cart