YOLY Fallin' For Ya'h!
Released 6/11/12
SALE! $10.00$8.00Add to Cart
M/F Tickling & F/M Tickling!
Well hit me in the head with a tadpole and blow bubbles up my shirt!
Who would've thunk that such a simple chore as gathering wood could be fraught with such hilarious peril and downright hillbilly hijinks?
Well, the answer is EVERYONE of course... That is if y'all told em that Yoly was on the job.
Join Yoly on her perilous pursuit to gather wood fer her Gran'Mah's fire and her explosive encounter with the one and only Johnny No Pants!
Item Features
10 Full-Color Pages + Cover!
40+ Comic Panels!
M/F Tickling & F/M Tickling!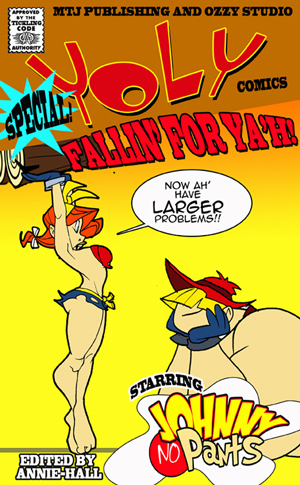 YOLY Fallin' For Ya'h! Cover
SALE! $10.00$8.00Add to Cart