YOLY Lickle Tickle!
Released 1/16/13
SALE! $9.00$7.20Add to Cart
Yoly's grandma sends her to the family gold mine so that she can change the password on the mine's combination lock. One can't be too careful when it comes to the security of the family gold mine. Not all of the Bruno Mountains inhabitants can be considered trust worthy after all. In fact, happy go lucky and hopelessly ticklish Yoly is about the find out just how nefarious one unscrupulous pair of her neighbors can be.
Join YOLY and a cast of zany characters from the ingenious imagination of Ozzy! (creator of YENNY)
Item Features
8 Full-Color Pages + Cover!
30+ Comic Panels!
Focus on Barefoot Tickling!
M/F Tickling!
Ticklish Torture via a Goat licking Yoly's Soles!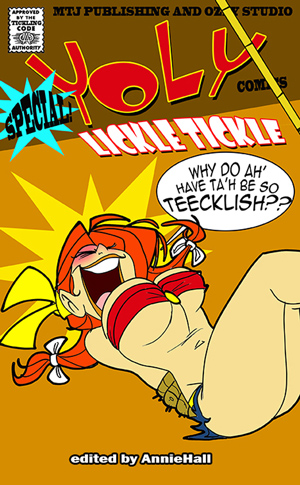 YOLY Lickle Tickle! Cover
SALE! $9.00$7.20Add to Cart