The Josh Flynn Tickle Collection Vol. 1
Released 7/10/13
$14.00Add to Cart
Like all great artists, Josh Flynn has a vision. He sees a world in which parades of gloriously barefoot beauties meet ticklish fates at the end of a feather. It's a simpler world, where feckless farm girls, chastised cheerleaders and naughty Native American maidens are all forced to laugh for their lives, while coldhearted coeds, shady sheikhs and devious delinquent take advantage of their toes.
In other words, this is a fabulous, 50s-flavored feast of eye-popping pin-ups that will call to mind the very best good girl artists with a tickle-torture twist! Josh brings sexy back in a big way, and those who love ticklish, beautiful ladies, won't want to miss his MTJ debut!
-Colin
Item Features
12 eye-popping pin-ups plus cover!
Featuring erotic attire, topless and bottomless nudity!
Sexy Farm Girls, Cheerleaders, Native American Maidens & More!
Focus on Barefoot feather tickling!
F/F Tickling!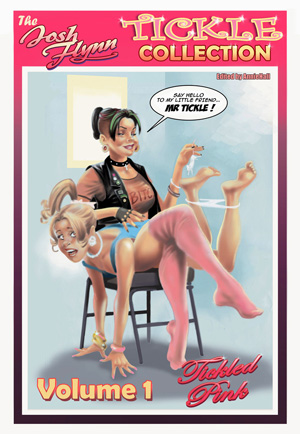 The Josh Flynn Tickle Collection Vol. 1 Cover
$14.00Add to Cart