Wily Women Vol.2
Released 7/17/13
$12.00Add to Cart
For over a decade veteran writer TickleMantis has been putting fictional females through their paces, much to the amusement of their male counterparts...but now the tables have turned! Joined by master of the erotic-arts Annoxanti, the killer team brings you three sizzling, searing, white-hot tales of unbridled F/m ticklish torment!
Three short stories of cruel ladies showing the boys just how it's done. Vol.1 was sexy, but Vol.2 is downright sadistic! Includes three excruciatingly torturous pin-ups that are so hot they'll melt clean through your screen!
Burning Down The House- Tall dark and heroic, Alex Thatcher is the man men want to be...save for one horrible weakness! Arriving late to a call the dashing firefighter finds himself alone, doing odd chores around the station. Within minutes two city inspectors arrive, but as the two voluptuous beauties wander the firehouse it seems their inquisitiveness may be of a more personal nature. Outnumbered and severely sensitive, this is one ticklish inferno too hot to handle!
By The Lakeside- As the rowdy Mulesler family arrives outside, straight laced eighteen-year-old Andrew Charleston knows their annual lake trip will be a nerve racking experience...but he never imagined it would get this bad! Caught sneaking a peek at Mrs. Mulesler's shapely figure through the steamy lake house bathroom, both mother and stepdaughter decide to teach the helpless blonde a thing or two, by using their long wiggling nails on his tender flesh!
Hidden Hysterics- In what might just be the darkest story TickleMantis has ever written (and that's saying something!), Hidden Hysterics tells the sorry story of a young man trapped between ticklish hell and lustful seduction! A handsome college lad living under his uncle's roof, John Whitlock studies hard, keeps to himself and likes a quiet life...which would all be fine if it wasn't for Lydia, his uncle's statuesque and mischievously cruel girlfriend. What begins as an embarrassing accident soon turns into sadistic routine, the torture becoming worse and ever more risque, with no end in sight...
Item Features
3 Sexy Stories Written by TickleMantis!
17,500 + Words!
3 Story Illustrations by AnnoXanti!
Explicit F/M Tickling!
Helpless Men!
Dominant 'Lers!
Gang Tickling!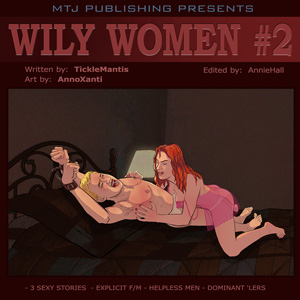 Wily Women Vol.2 Cover
$12.00Add to Cart