Guys Are So Ticklish!
Released 2/10/03
$10.00Add to Cart
A TICKLISH CURE!
Melissa's cute but shy cousin David has an aversion to going barefoot...and wicked Kim has the "cure." But it might turn out to be worse than the problem...at least from poor David's point of view!
TICKLE THE BRAT!
Bratty Ryan is the absolute worst excuse for a boyfriend a girl ever had! Jennifer can't understand why Connie puts up with him. But when a car-wreck delivers Ryan feet-first into their hands, they teach him a ticklish lesson...with the help of a couple of equally bratty rich girls!
TICKLING FOR DOLLARS!
Kathy really wants those new shoes. Too bad they're so expensive. But Kathy has a money-raising scheme that involves her submissive boyfriend and a roomful of tickle-happy college girls!
REHEARSAL FOR TICKLING!
Tracy is very proud of her new play, and is especially looking forward to the torture scenes! Ticklish Danny is the star, and once he's on the rack, there's no stopping Tracy and fellow thespians! But their wicked Drama Professor might just turn out to be the most sadistic tickler of them all!
LET'S PLAY TICKLE!
"Kitchy-Coup" is the hottest new board-game, and Suzi and Karen are totally addicted to it! There's just one problem: to play Kitchy-Coup, you need a Ticklee! How much tickle-torture will a guy endure to be with two of the hottest girls on campus? Suzi and Karen decide to find out!
Item Features
Words 20,000 +
Stories by Asia Girl
Cover illustration by Mau Russo
f/m tickling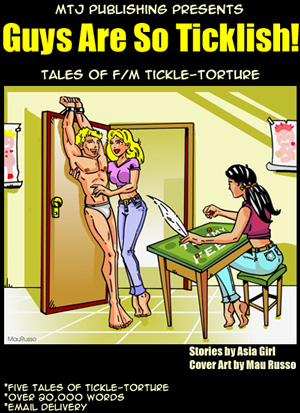 Guys Are So Ticklish! Cover
$10.00Add to Cart