Guys Giggle, Women Win #1
Released 6/29/15
$12.00Add to Cart
Veteran author XODLIRV returns with this collection of ticklish tales that is sure to leave no doubt that when GUYS GIGGLE, WOMEN WIN!
BURIED TREASURE
Two college girls went to the beach, expecting only a day of sun, surf, and smoothies. They didn't count on finding a young man buried in the sand...a man with unbearably ticklish feet!
COME PLAY WITH US
A car accident on a lonely back road leads a lone motorist to a deserted old house. But is it really deserted? He finds out...to his hysterical dismay!
THE WHITE FOUNTAIN
In 1882, the lone survivor of a pirate attack washes ashore on a lonely island. He is discovered by a tribe of women, who have a unique way of welcoming male visitors to their land!
THE HA-HA-HOLIDAY
An American man takes a spur-of-the-moment vacation in England, hoping to forget the woman who jilted him. It doesn't go well...until he meets a British lady who knows just how to take his mind off her!
Item Features
Four ticklish tales that will leave guys giggling!
16,000+ words!
Stories by veteran MTJ author XODLIRV!
Cover Art by the one and only ANNOXANTI!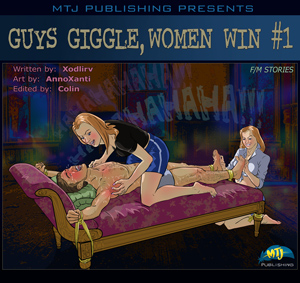 Guys Giggle, Women Win #1 Cover
$12.00Add to Cart