The World Collector
Released 4/27/17
$14.00Add to Cart
*The process of genetic acclimatization, by which a human body can be adapted to breathe the atmosphere of an alien world, is one of the great technological achievements of the spacefaring age. Over the course of six to twelve months, a subject is exposed to trace amounts of gas from a planet's atmosphere, and slowly acquires the capacity to breathe the air on the specific planet which they will eventually inhabit. However, for reasons not yet understood, every acclimatization process comes with its own 'quirks' or side-effects depending on the planet in question. Most are harmless: one world's process might impart silver pupils to the subject, another might grant a heightened sense of smell.
Planet Gulveg, however, is notorious among spacefarers on this account. Its acclimatization process, which works on female subjects only, causes the subject to become hypersensitive to touch, rendering their entire body (particularly the feet) extremely ticklish to a degree rarely seen elsewhere. The process has proven completely irreversible. As a result, Gulveg is avoided by nearly all travelers who have a choice in the matter. Situated as it is on the edge of frontier space, most of its settlers are on the run from the law, and willing to accept intensified ticklishness as the price for living on a world that police never visit. If you must visit Gulveg, protective clothing is highly recommended.
--Introduction to A Traveler's Guide to the Outer Worlds, 12th edition, published 3628
On the distant, lawless world of Gulveg live many who came fleeing their past, and one woman who came seeking it. Now, Katheryn's quest for justice is about to take her up against the most notorious criminal in all the universe: The Untempered Lady. Queen of a shadowy empire that stretches across the galaxy, her name is a legend among space pirates and she commands entire planets at her fingertips. Standing between Katheryn and her infamous foe is an entire planet of thieves, pirates, and gladiators from across the galaxy. Her enemies are dangerous, but all have one thing in common: every one of them is unimaginably ticklish!
Does Katheryn have the courage to succeed on a world where tickling is the most feared form of punishment? Once the shoes come off, what dark secrets will be revealed as the galaxy's most dangerous women have their delicate feet exposed to interrogation? An adventure awaits through a shadowy underworld of intrigue, laughter, and relentless tickle torture!
Item Features
Intense Tickling Punishment!
Focus on extreme barefoot tickle torture!
54,000+ words!
Written by Kunzite!
Cover Art by Annoxanti!
f/f & mechanized tickling!
Written by Kunzite!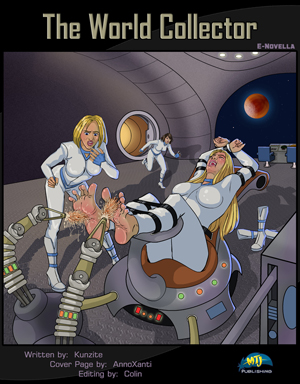 The World Collector Cover
$14.00Add to Cart