LOST AT GALAKKAN CAVE
Released 6/26/08
SALE! $10.00$8.00Add to Cart
For years, there have been whispers about the existence of a fetishist tribe called the Galakkan who dwell in a cave of pleasure. Most people think the Galakkan are just a myth--a bit of exciting hearsay. Their legendary cave has, however, aroused some serious curiosity. Many adventurers have sought to find it, but their attempts have always ended in futility--or insanity.
Who really knows the strong force behind the tribe? Is the cave of pleasure worth finding?
Three expert travelers are tempted to have a glimpse of the unknown. They think they are in for a good time, but how will the dominant Galakkan Queen feel about their visit? Upon reaching the heart of the cave, as captured prisoners, they realize that she is dedicated to punishing every trespasser who intrudes upon her privacy. She has her own system of barbaric methods, enforcing them mercilessly. There are only two options for captives: tickle torture or DEATH...
Unravel the mystery of the Queen of Galakkan in the pages of this tale of bizarre adventure!
Item Features
19 B&W Pages
50+ Comic Panels
FFM/F, F/M, M/F, */M Tickling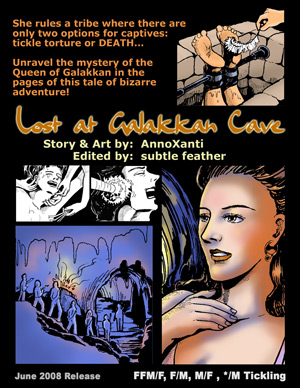 LOST AT GALAKKAN CAVE Cover
SALE! $10.00$8.00Add to Cart