MAKE HIM LAUGH #2
Released 4/22/02
$10.00Add to Cart
THE GAME OF BOY AND FEATHER
Working for a maximum-security, all-male prison in the 25th Century can get pretty boring...unless, like Warden Jenna Rand, you find ways to amuse yourself. And if a young convict like Li Kylin has to be tickled half to death as a result...well, what else are you paying taxes for?
BAREFOOT BOOGIE
Sylvia is just another secret agent forced to spend a long evening torturing information out of ticklish club-boys. The things some girls won't do for their careers!
STROKE OF GENIUS
Three female executives have their inhibitions removed by a friendly hypnotist. Suddenly they've got a taste for tickling helpless men - and the company Casanova is first on their list!
THE TICKLE WITCH
Dr. Cassandra Dunkirk's latest patient is a deeply disturbed young man troubled by recurrent dreams of tickle-torture. Is the strange, laughing young woman who haunts him simply the product of his disordered mind...or something more mysterious?
Item Features
Four tales of merciless tickle torture!
Over 25,000 words!
New Cover Art by Nessonite!
Original Cover Art by Chadpet included!
f/m tickling!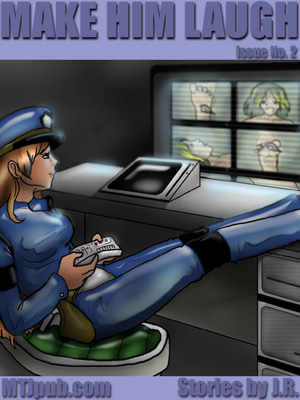 MAKE HIM LAUGH #2 Cover
$10.00Add to Cart