Yenny Comic (July 2001)
Released 10/7/01
$14.00Add to Cart
Do you have a fantasy about gorgeous helpless gals being tickled out of their minds? Do you crave fiendish feathery torment on tender victims? Do you love blue pig-tails?
Of course you do!
That's right, tickle fans, Yenny is back and is accompanied by the dangerously hot Secret Agent Sonya in one of her biggest and most hilarious adventures ever.
The question is: Can Yenny hold out against the diabolical toe-tickling interrogation techniques... can Sonya withstand the ruthless upper-body assault... and can you stand another minute of existence without reading this smoldering masterpiece of tickle comic genius?
The answer: Noooo! So give in, and be a part of the hotness!
-The Bandito
Item Features
25 Pages(B&W interior) +Cover!
120+ Comic Panels!
Special Guest Hysterics by Secret Agent Sonya!!
Art by the Legendary Ozzy!
Written by Xodlirv!
/f Tickling!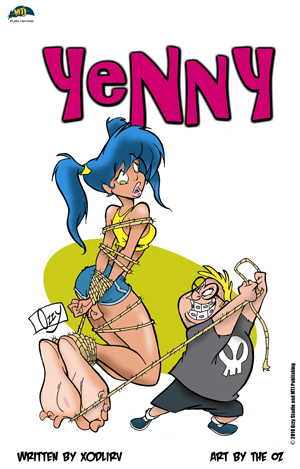 Yenny Comic (July 2001) Cover
Visit the creator's site!
$14.00Add to Cart