MAKE LAUGHTER NOT WAR
Released 1/8/07
$12.00Add to Cart
A psychedelic tickling adventure, time-tripping back to the days of lava lamps and flower power! In 1969, three beautiful female military officers are sent to a recruitment drive on a college campus. Once there, they are kidnapped by three hippie girls who try to show them the evil of their ways through the healing power of laughter!
Item Features
12 Full Color Pages!
50+ Comic Panels
Cover Art!
Laughing gas!
Catfights!
And lots of nylon-footed tickling in stocks!
f/f tickling!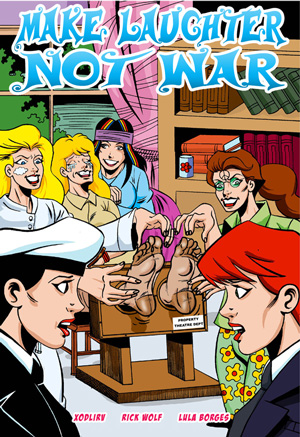 MAKE LAUGHTER NOT WAR Cover
$12.00Add to Cart