MANDELL'S TICKLISH FANTASIES #2
Released 4/28/14
SALE! $12.00$9.00Add to Cart
Mandell's art has been a mainstay of MTJ Publishing from its very earliest days. From classic illustrations in TALES FROM THE ASYLUM magazine to celebrity portraits he created for Morandilas's Ticklers Retreat, Mandell's subtle, sexy pencil work captured every tickler's fantasy of lovely women in the throes of helpless laughter.
Mandell returns with the 2nd volume in his MANDELL'S TICKLISH FANTASIES pin-up series! Playful Tickling Games, Harem Punishments, Far East Interrogations, and Alien Abductions are just a few of the scenarios that await you.
Item Features
10 Beautiful New Illustrations + Cover!
8 Barefoot Tickling Pin-up!
1 Barefoot & Naughty Tickling Pin-up!
1 Breast Tickling Pin-up!
M/F & F/F Tickling!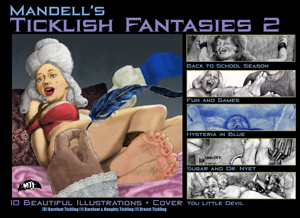 MANDELL'S TICKLISH FANTASIES #2 Cover
SALE! $12.00$9.00Add to Cart